Chap
Pathfinder
member is offline




Top Of Coniston Old Man





Joined: Apr 2009
Gender: Male


Posts: 222
Location: Sheffield

Ice Axes How to Choose / Any Use
« Thread Started on Dec 18, 2011, 7:36pm »

---

Hi....

I've got quite a few serious hills left to do during Jan - March and want to make sure im well prepared .... Ice Axes..... been looking at them a few questions

Do many forum members feel the need to use one ?

If so any advice on which one to choose ?

---

Paul Hirst - Getting There 188/214


greggy4
Ridge Runner
member is offline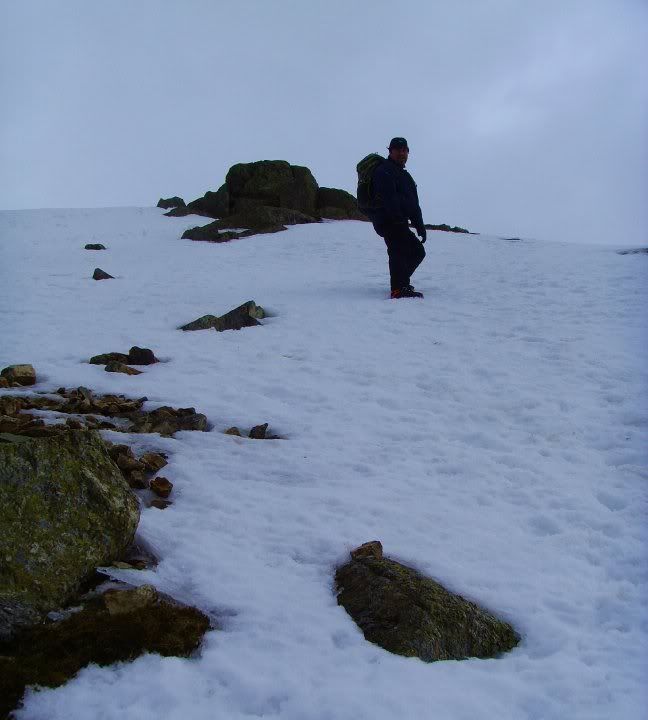 206/214







Joined: Sept 2010
Gender: Male


Posts: 503
Location: The Great Border City

Re: Ice Axes How to Choose / Any Use
« Reply #1 on Dec 18, 2011, 7:50pm »

---

Paul,
Ive got a Grivel Brenva
http://www.outdoorkit.co.uk/product.php?....CFYEhtAod7lDzGw
i got it from Cotswold's a few year back, not many places seen to stock it nowadays, i presume there's a newer model
if i feel the need to wear crampons i carry it and use it mainly like a pole i got the longest length, there was 3 lengths (i don't use or carry poles!), fortunately I've never had to use it in a self arrest emergency, but have thrown myself down White Horse Bent on Bannerdale Crags a few times to 'test it out'!

the Helvellyn fell top report states, 'For those going
above the snow-line and attempting or traversing steep
routes, an ice axe and crampons are also essential.'

for around £100, better being safe than sorry methinks!

---

Ad Montes Oculos Levavi
wainwrighteer
Wanderer
member is offline





211/214 & 112/116





Joined: Jul 2009
Gender: Male


Posts: 54
Location: Liverpool-ish

Re: Ice Axes How to Choose / Any Use
« Reply #2 on Dec 18, 2011, 8:45pm »

---

Grivel do great kit (I've got 2 pairs of their crampons) but if you want to support the British gear industry, the DMM Cirque is a superb axe - they're aren't many better.

Cheers, Al.

---
Chap
Pathfinder
member is offline




Top Of Coniston Old Man





Joined: Apr 2009
Gender: Male


Posts: 222
Location: Sheffield

Re: Ice Axes How to Choose / Any Use
« Reply #3 on Dec 19, 2011, 7:32am »

---

Thanks for that will go take a look at them .......

---

Paul Hirst - Getting There 188/214


vertigo
Superhero






member is offline




follow me on twitter - @vertigo_alan





Joined: Aug 2008
Gender: Male


Posts: 2,345

Re: Ice Axes How to Choose / Any Use
« Reply #4 on Dec 19, 2011, 9:17am »

---

I always take an Ice Axe out with me in the snow! I've got the entry level Grivel Munro.

With regards to use, look at the following:

http://www.youtube.com/watch?v=LM3xLshmNnk

When you head out with an Axe for the first time i suggest you practice!!! You just never know

Have fun

Alan

---
Frank
Superhero
member is offline









Joined: Dec 2010
Gender: Male


Posts: 1,066
Location: Ribble Valley, Lancashire

Re: Ice Axes How to Choose / Any Use
« Reply #5 on Dec 21, 2011, 12:30pm »

---

I too always have an ice axe strapped to the sac which I take on the fells all through the winter months plus a pair of kahtoola mini spikes to pull on if needed.

Full crampons only if ridge walking in case of the need to front point on steeper ice which I would normally avoid - used only once in the recent wintry past on Striding Edge.

January Trail mag has a review of ice axes and an article on technique.

Frank.
Chap
Pathfinder
member is offline




Top Of Coniston Old Man





Joined: Apr 2009
Gender: Male


Posts: 222
Location: Sheffield

Re: Ice Axes How to Choose / Any Use
« Reply #6 on Dec 21, 2011, 12:49pm »

---

Thanks Frank... I have the Mini spikes they are great and I got the Grivel Munro long version Just need to get up there now and get into the Snow

---

Paul Hirst - Getting There 188/214