MartinJ
Wanderer




member is offline









Joined: Aug 2011
Gender: Male


Posts: 162
Location: Eden Valley

What's in your bait box?
« Thread Started on Dec 22, 2011, 10:56pm »

---

May I just mention my view that Aldi Stollen should be present in every self-respecting bait-box?

For just £1.99 you get a lump the size and weight of a house-brick. It lasts forever and is packed with tasty nourishment!

Stock up after Christmas when Aldi are clearing their shelves!

Keep on trekkin' MartinJ

---

"Live dangerously" - Nietzsche
doggyfield
Ambler


member is offline









Joined: Dec 2011
Gender: Male


Posts: 10
Location: Tyrone, NI

Re: What's in your bait box?
« Reply #1 on Feb 17, 2012, 7:40pm »

---

Thought it was cryptic for "what does one eat on the fells" or "what does one carry with them as emerg. rations" !!!!! Now I think it's something to do with fishing or should that be phishing ? Fish bait as emerg. rations sounds good as you would not be tempted to eat it before "it's sell by date"

---

Vinny
MartinJ
Wanderer




member is offline









Joined: Aug 2011
Gender: Male


Posts: 162
Location: Eden Valley

Re: What's in your bait box?
« Reply #2 on Feb 18, 2012, 1:49pm »

---

No, no doggyfield. In these parts "yer bait" is what I imagine, in Co Tyrone, you will refer to as "one's packed lunch". Do you do Aldi in NI? Regards, MartinJ

---

"Live dangerously" - Nietzsche
Ray Bradshaw
Superhero+ & Threadmeister!
member is offline




Mine's a pint !





Joined: Feb 2008
Gender: Male


Posts: 4,202
Location: SUNDERLAND

Re: What's in your bait box?
« Reply #3 on Feb 19, 2012, 10:56am »

---

Ham and cheese sarnies, mini pork pies, Marathon bars (or is it Sneaker bars these days ) and a bag of Markies for Bross.

Ray

---

Look me up on

www.artbyraybradshaw.com

I like to paint people enjoying the outdoors in and around the English Countryside. Mainly the Lakes and the Dales. More recently the urban scene is included. I would like to think that if AW was alive today, if he didn't appreciate my talent, he would at least get my humour.
MartinJ
Wanderer




member is offline









Joined: Aug 2011
Gender: Male


Posts: 162
Location: Eden Valley

Re: What's in your bait box?
« Reply #4 on Feb 19, 2012, 11:59am »

---

Very tasty Ray. I may have a word with Mrs MartinJ and see if she might introduce some variety. On the other hand I think there's a lot to be said for the "standard bait". For example, I'd feel very odd indeed if there wasn't a banana for elevenses.

The next question is "nibble or gorge?" - lots of short refuelling stops or one big one?


---

"Live dangerously" - Nietzsche
doggyfield
Ambler


member is offline









Joined: Dec 2011
Gender: Male


Posts: 10
Location: Tyrone, NI

Re: What's in your bait box?
« Reply #5 on Feb 22, 2012, 6:45pm »

---


Feb 18, 2012, 1:49pm, MartinJ wrote:

No, no doggyfield. In these parts "yer bait" is what I imagine, in Co Tyrone, you will refer to as "one's packed lunch". Do you do Aldi in NI? Regards, MartinJ




Quite rightly so " one's packed lunch" ; packed by the butler, of course!!

Don't think we have an Aldi in NI (newly returned). Back-packed in the Lakes for 20yrs so have tried many combinations. Tuna and packet stuffing(uncooked !!) was one experiment but now rely on 4 slices of Tesco thin ham and 2 slices of plastic wrapped cheese between 2 wheaten pitta bread. Easily assembled from inside the sleeping bag in the morning after breakfast in bed.

---

Vinny
therambler
Ambler
member is offline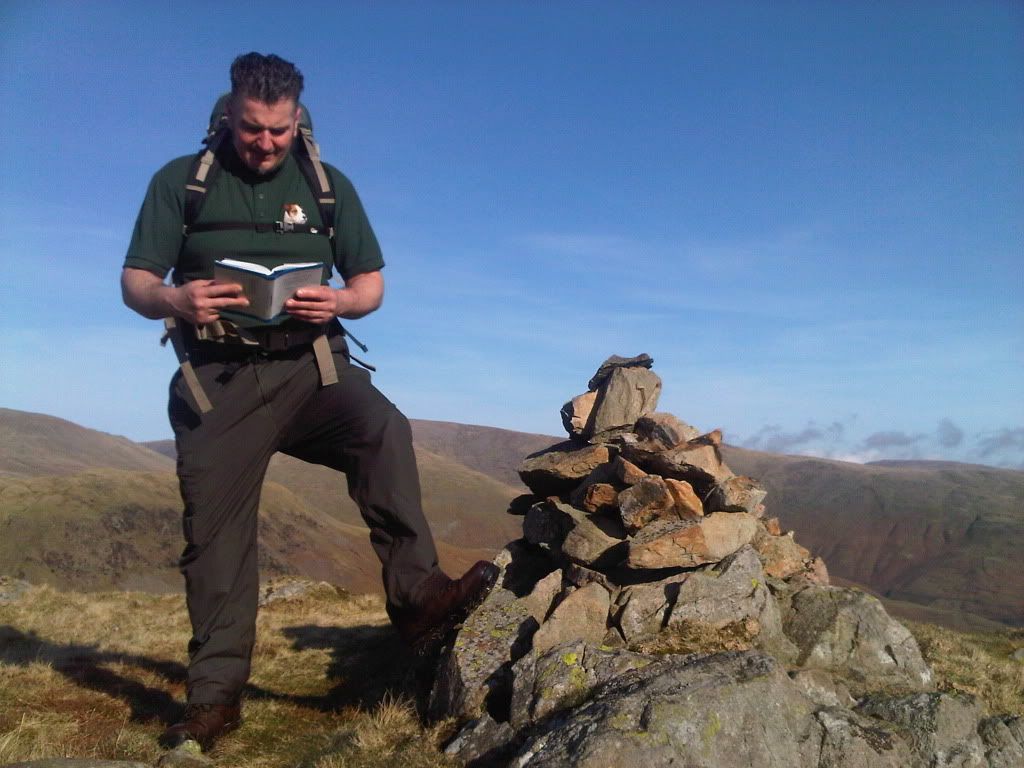 I know it's round here somewhere!?!?





Joined: Mar 2012
Gender: Male


Posts: 27
Location: Lancashire

Re: What's in your bait box?
« Reply #6 on Mar 17, 2012, 7:22am »

---

mmmmm, peanut butter, cheese and jam on wholemeal bread, a banana and a pork pie, preferably a Melton Mowbray with pickle! That keeps the energy flowing on a long walk